What To Do: Backup Shortstop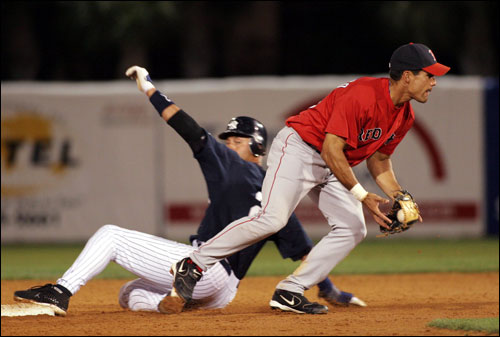 Spring is a time for teams to figure out roster battles, and a time to figure out what your backup plans will be if something goes wrong. Right now, the Twins don't have a very good backup plan for shortstop as their rule five draft pick Alejandro Machado is out indefinitely after undergoing surgery on his ailing shoulder.

Now, with Machado out, the Twins are forced to go with other options within their organization or possibly outside the organization. General manager Terry Ryan and manager Ron Gardenhire have both said that the team will not make a trade, but that could change if other options don't work out.

Right now, the team says that they will go with Luis Rodriguez and Jeff Cirillo to fill the backup void. Those are two players who are not shortstops and are not suited for the position. Anther option that Gardenhire suggested as an emergency would be to move current third basemen Nick Punto over to shortstop whenever Bartlett needs a day off. However, that would not be an ideal situation either as Punto's primary position is third base and moving him would require him to flip-flop throughout the season.

So, I have another option, lets make a trade...


Thats right, the Twins need to go out and find someone, and I have exactly the guy for them. The guy that I'm thinking of was just sent down to AAA by the Colorado Rockies after playing everyday last season in a total of 131 games. The guy I'm thinking of is shortstop Clint Barmes. Barmes as I mentioned played in a total of 131 games last season everyday for the Rockies, and now he will be playing in the minors which I imagine he isn't to fond of.

As far as I know, the Rockies are still looking for some more bullpen help, and in my opinion, the Twins have the players to help them. The Twins could send lefty Mike Venafro, who has had an awesome spring, to the Rockies in exchange for Barmes. Or, they could send former prospect J.D. Durbin to the Rockies for Barmes. Either way, if the Rockies would agree to this, we would get our backup shortstop, while they would get a decent relief pitcher.

Barmes numbers look pretty good, and if I had to guess, he would have some of the best backup shortstop numbers in the league. Also, if Barmes played well, the Twins would also possibly have the option of playing him at second base or even putting him in as a designated hitter.


2006 Season Stats

SPLIT
G
AB
R
H
2B
3B
HR
RBI
SB
BA
OBP
SLG
Season
131
478
57
105
26
4
7
56
5
.220
.264
.335
Career
244
924
128
234
50
6
19
114
11
.253
.295
.382

Anyways, enough with the ramblings of how nice it would to get Barmes and how good his numbers would be for a backup. This trade is unlikely to happen, but I'm trying to make a point that there are other options out there with Barmes being one of them. Whether or not the Twins trade for Barmes this spring, I'd be very surprised if the Twins didn't make some sort of trade by Opening Day.

I'm very interested with what you readers think the Twins should do. Please let me know of any trades that you think they should consider as well as any other options you think they should pursue. Just leave your thoughts in the comments section right below this post.